H3R Performance MX100C Fire Extinguisher + Sports Bar Mount Jeep Wrangler JK/JKU/JL/JLU and Jeep Gladiator
Best Fire Extinguisher for an Off-Road Expedition
Quickly extinguish engine compartment or drivetrain fires on the trail. Halotron 1 is the pefect extinguishing agent for an extensive 4x4 off-road use.
A cheap household extinguisher or plain water won't save your Jeep in the bush. You need a chemical that smothers petroleum based fires.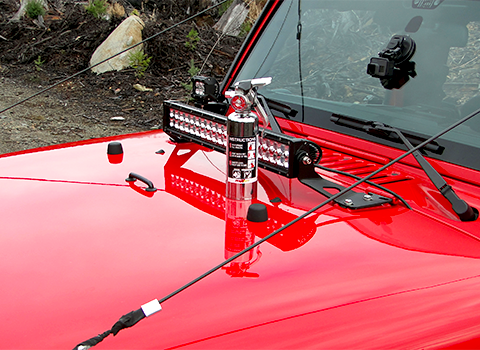 An aviation-grade fire extinguisher for your Jeep Wrangler is a bit more expensive but it's exactly what a professional or a long-distance adventurer needs in the remote wilderness.
Rugged Ridge 13305.21 Black Color for the Sport Roll Bar. Fits JK 2-Doors JKU 4-Doors 2007 2008 2009 2010 2011 2012 2013 2014 2015 2016 2017 2018 + JL 2-Doors JL Unlimited 4-Doors 2019-2020. To know more about this product Fire Extinguisher Holder Wrangler JK/JL